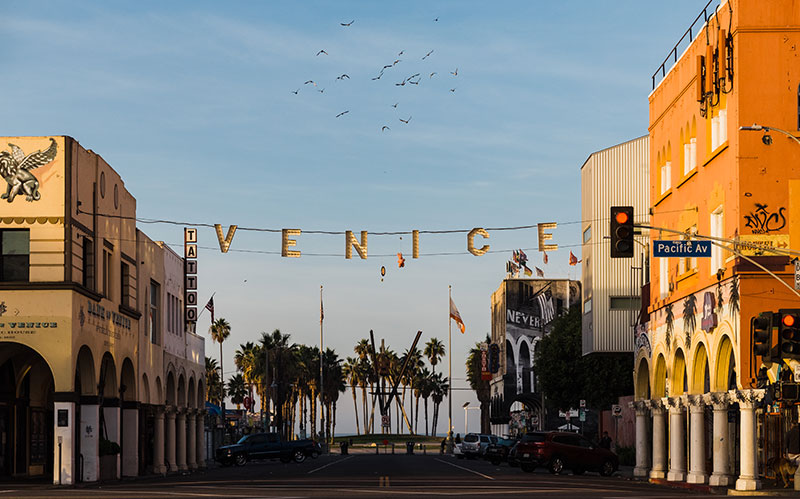 Description
Welcome to Venice, sitting just below the world renowned Santa Monica, Venice occupies just under two miles of the Pacific Ocean tothe west and stretches to Walgroe Avenue to the east, Rose avenue to the north and Washington Avenue to the south.
History
The Marina began as a salt water marsh that connected to the Ballona Creek, creating the ideal marsh and wetland ecosystem. Several failed attempts spanning from the 19th-20th centuries to develop the area into a commercial harbor helped ensure that the Marina del Rey served the community as opposed to industrial commerce. Development of what we know to be the present Marina began in the 1950's and was completed by the early 1960's with a formal dedication on April 10, 1965.
Attractions
Today the Marina provides over 4,600 boat slips, a multitude of ocean activities from kayaking, paddle boarding and fishing to name just a few. With easy access from the Marina freeway, the neighborhood retains its seaside community charm, while providing the comforts of commercial amenities alongside long time restaurants, bars and hotels, alongside high rise condo developments, single family homes that border the channel, sand and canals.
From a local bicyclist perspective, the Marina ties the Westside's bike path to the South Bay, marking the first quarter of the trek along the beach bike path, with the approximate 20 mile ride from Santa Monica Pier to RAT (Right After Torrance) Beach where the beach path ends at Malaga Cove in Palos Verdes.
To this day the Marina offers something for everyone from the water, to the bike paths, bicyclist, skaters, paddle boarders and kayakers flood its paths and shores year-round. Commuter's love the easy access from the 90 Freeway and average seven mile drive to LAX, and average 18 miles to Downtown Los Angeles, you have immediate access to freeways as you do sand and water.
Homes
Housing options range from entry level condos to luxury full service buildings and single family homes from the exclusive Silver Strand on the canals to oceanfront homes along the Peninsula to the Oxford Triangle- there are options for everyone.